How Morocco Last time I tried to tell about this journey I ended up writing about the power of mountains itself. However I have a promise to myself, to reflect and archive each journey, so there is something to look back at. Memories fade. Data entries… not so much.
So in the middle of October me and my friend went to Morocco to hike highest mountain in Atlas, and whole northern Afrika – Jbel Toubkal which is 4 167 m. above sea level.
Packing
Packing is always challenging in these budget trips. I have a medium size backpack. Weather at the bottom (Marrakesh and elsewhere on the ground) is 30°C. While at 4 kilometers is around zero. Mountain boots take up around 1/3 backpack space. These are some of the starting challenges.
The night before heading to Vilnius I went out. I consider this a mistake, because I forgot to take a lot of important stuff while packing on the rush and hangover:
earbuds;
gloves;
sun glasses (lost on the way);
towel;
toothpaste;
flashlight;
something more… I'm certain.
Morocco – first impressions
Chaos. I have been to Afrika before. When I was young my parents took me to Egypt once. I forgot how things were around here.
Getting around in Morocco sucks
We landed in Agadir and our first night was in Marrakesh. Transportation in Morocco works. But it sucks balls. I like to pay reasonable amount, not get ripped off and get to where I want to get. It's not much. In Europe these requests work out fine.
In Morocco throughout the whole trip we had to bargain, bargain and bargain once again. And even after setting the price, you can not be sure the cab will take to the final destination.
I was on a plane, private taxi, shared taxi (grand taxi's), intercity buses and a train. Plane was my favorite pick, got to say. Other means of transportation have caused considerable amount of stress at first.
Almost everywhere we went – we were the only foreigners. It's a strange feeling to take a bus in a different continent, where everyone is of different race and talks Arabic. Air conditioning? Naaah.
How to travel cheap in Morocco?
Unofficial Bottom: 1.5 MAD/km
Throughout the whole trip, I think one stands out and could be taken as a reference: From Imlil to Marrakesh for 40 dihirams per person. That's around 4 Euros for 60 kilometers, or 1.5 MAD (Moroccan Dihirams per kilometer). I think this is the bottom of public transportation as one tourist can get.
We have waited for some time to get moving, hopped into other van at Asni and overall – it was an ancient Mercedes. Lots of fun.
The older the taxi – the better
Lift your arm towards a moving old Peugeot or anything manufactured before the Soviet Russia collapsed (1990) and you should be good. Drivers are more accommodating, and whole ride experience is much better.
I could not imagine getting around city without these loud cuties.
Marrakesh Medina
When we got to Marrakesh, it was already dark. Our place was in Medina (old town), which was around 10-15 minute walk from bus station. Traffic in Marrakesh is intense. You have to watch your step every second. Not all streets have sidewalks. Not all sidewalks are clear to walk on.
Even in Medina, where streets are much more tight, there are lots of scooters, bikes and pedestrians. All moving chaotically. Fun, though demanding at first to watch for every step. Eventually you get used and a moving car bumper from your knee at 20 cm distance starts to be just fine.
Following shots were made after the climb to Toubkal, but since we are on the topic:
Moroccan Medina market is Huge. HUGE.
I don't know it the seller wanted us out, but he said this globe costs 5000 EUR. Neat stuff.
Lots of noises, stimuli… A cry for peace.
Getting to Atlas Mountains
Day 2 plan: wake up early, grab a taxi to Imlil, buy sunglasses, start climbing, reach refuge at 3200 m above. And so we proceeded.
Taxi ride was expensive, but we were new around and we were not sure about the scope (energy, time wise) about the hike. We both bought cheap sunglasses just to be sure we would not run into eyes problems again. On the map it seemed straight forward, but we struggled to find the main track leading from Imlil to Jbel Toubkal / Refuge.
After several minor detours and specifications at locals we finally were on our way two day trip to Jbel Toubkal – the tallest mountain in Atlas range. City of Imlil from above.
Although morning at 1600 m Imlil was chilly, eventually day got warmer and hiking conditions were perfect. If you come across orange juice stand on your way to the top, take a stop and enjoy a piece of paradise. Best juice glass ever. No photos from that one, unfortunately, you will have to trust me.
Actually I was surprised with how many people, guides and locals and donkeys were climbing throughout the day. Toubkal is by far the most busy peak I have yet climbed.
Dining time. Great price, decent meals, happy and a bit rested us. Stopped here on the way back as well.
Climbing further we take another orange juice stop to compensate for lost fluids.
Reaching Refuge
At around 3000 m above sea level my friend felt first symptoms altitude sickness. Nothing serious, but mild head dizziness. I wasn't sure if I felt anything of that sort during the first day. I sure felt the temperature drop up there.
We reached refuge, which is situated at ~3200 m above sea level in early evening, we checked in and walked around, chilled.
This is the home for this night, Jbel Toubkal Refuge:
For the first time I saw so light clouds just above our heads:
Plenty of time before bed to play around:
Night night, tomorrow's gonna be a hard day.
Hike Day #1 stats: Imlil is at around 1600m above sea level. So in first day we covered around 20km horizontally and around 1600 vertically.
Summiting Jbel Toubkal (4167 m) before the Sunrise
Day 3 plan (2nd day hiking): wake up at 4:30, leave refuge before 5:30 in complete darkness, follow groups with guides, not rent crampons, summit Toubkal before sun rises, don't die, safely return to camp, pack, leave refuge, get to Imlil, then to Marrakesh. Enjoy a well deserved beer.
Ascend to Toubkal Peak was a Hell
We started our morning and ascend in complete darkness. Sky, stars – I can't describe that. Only thing I know – you have to watch them while sitting down. Otherwise you risk a lot. So here's how it all went from refuge:
To everyone that asked yesterday or in the morning about the crampons: we lied we had them. Everyone or at least that's what it seemed like – was climbing with a local guide. As I mentioned before – we left our flashlights back home, so we carried our smartphones with flashlights with bare hands.
Both of us carried bottles of water. Hands are cold, and busy. And it was bearable until we reached snow/ice level. Oh, did I mention the wind? It's fast, and fucking chilling. At times I did not feel my fingers, so I carried bottle under my armpit and changed hands carrying the phone, while I tried to warm other hand in a pocket.
When we reached snow/ice, at times it was rather steep and slippery, obviously. To keep climbing I kept holding one hand on ground/ snowy rocks. Did I mention my hands were freezing? You get the picture.
At this point, let's add a heavy breathing, mild panic, and obvious lower levels of oxygen. Calm down, breathe. Normalizing breathing, continuing to push myself…
Last 20 minutes were a bit of a relief. Steepness was not as hard as previously. Morning sky was illuminating sufficiently, so I could put my phone and both hands into pockets. The wind kept blowing though.
Unique cloud formation just begged for a photo.
And there it is. Jbel Toubkal. Almost there.
Tears of…
My friend was already up there, his boots were slightly better and fatso has more fat, so he wasn't that cold I guess. When I finally caught up at the summit, we greeted each other and sat down where wind was at least a little weaker.
What an incredible world. What an incomprehensible beauty. I got tears. Mental, cold, sleep deprivation, several hours ascend of 1 km upwards all contributed. Mountains won yet again. They washed my ego.
They there Sunshine. Missed you so much.
Looking around (views from the Toubkal summit):
Worth it. Love 'em.
Descending Back to Refuge
Freezing hands, cold did not go away. Except for now, it was few times harder on that icy steep zone. Luckily after struggling for few minutes one guide noticed my efforts and offered to help to descend through the rough zone.
Grabbed his backpack at the shoulders, and whenever I slipped, I could stop at his boots with crampons. My buddy somehow got through that on his own. I admit I have high safety margins in the mountains. Sliding without control with bare hands it the last thing I would wanna do.
When I finally could take the camera out again.
So lucky me, really. And kids, don't be kidding with mountains above 4 km. After the refuge
Hike Day #2 stats: Refuge – Toubkal Summit – Imlil. Around 25-30km horizontally, 1 km ascend, ~2,5 km descend. Legs will scream on stairs tomorrow. Foolish, yet fun. And life with fun is MUCH MORE FUN to LIVE.
Another day in Marrakesh
The rest was easy. Bunch of walking with ABS on. Back in Marakesh we checked in to a new hostel and the next day, with hurting legs, we tried to take as much of it with us as we could.
Main mosque of Marrakesh.
Islam is not really tight in Morocco. There are alcohol shops, women in dresses…
Impressive crafts, not very convenient though.
Snakes… Zoom in for this one…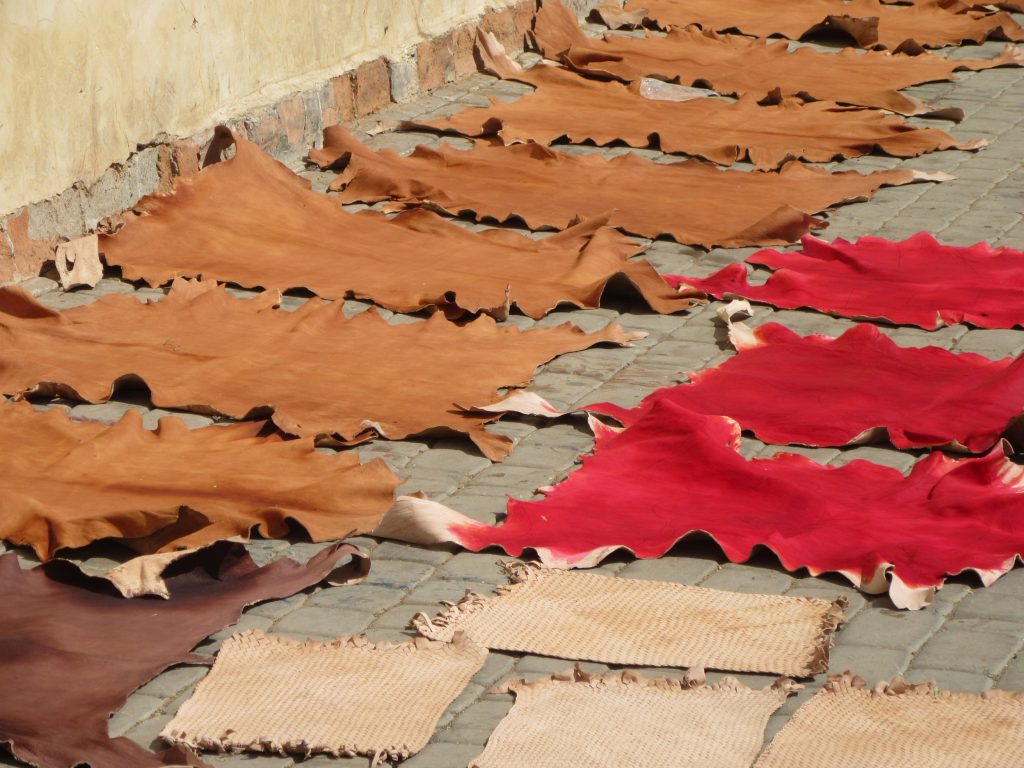 Marrakesh Museum
It was around 5 euros per person. Nothing particularly special, but I still liked it.
Safi
That evening we arrived in Safi. Several jokes flew by when checking in hotel. Safi is much more calmer. Merchants are of different vibe. We walked through the market on the way back from the beach, where we set the sun:
We also visited open shop of paintings. Pity I did not bring photographic memories of that. Some epic works were around. Next morning my friend went south to his surfing camp, while I headed north to Casablanca.
Casablanca
Over-night train and around 6 hours to spend in Casablanca. Rain. Lots of rain. First impression – western city. Lots of skyscrapers, but when I passed few blocks of flats, with open doors from the narrow pedestrian street I got upset. Living conditions…
Highlight is obviously Mosque de Hassan II:
After walking around in the rain, rest of the evening I spend in the train station, waiting for my night ride:

I'm not the only one waiting.
Flying back from Nador
Train was late more than an hour, but it showed up. My flight was from Nador. Nature sure changed. More green as compared to Marrakesh region. Trees..! Not just palms.
Last mini hike. Nador has a hill. Why are people like that?
Journey in short
I did not really want to go few weeks prior to flight. However I realized several really important things I could not see back at home. I, again, emphasized the importance of travel in this post before. Morocco is an African country. And for some of western folks this might seem scary or alien. It encapsulates city chaos and divine peace on top of Jbel Toubkal. It was another mind-expanding journey.
---
---
You might also like
---