Backlogging here a bit. In the end of April, my last day at work ended in Burgas. Travelling to Bulgaria and especially Balkan region was for the longest time one of my intentions. Strong associations with Soviet Union, Greek yogurt, rude, closed people and low prices was my initial mental map for Bulgaria.
Route in Bulgaria
We had a rented car, as far as I remember it did not cost much comparatively to Georgia or Iceland. Back home we focused on Impressive Soviet monument in the Mountains – Buzludzha and some cities, but we did supplement the route while idea to visit cave was spontaneous and I can't even locate the damn thing anymore. Anyway, the approximate route for 5 days of driving around Bulgaria looked like this:
Burgas
We landed in the evening, so we got our car and checked in at hotel. It was evident, Burgas was a tourist resort even in the night time. Calm breeze, +15°C in the night – what's not to like? Additionally we arrived around two weeks to the official season start, so there were very few tourists.
After few beers and basketball game and got on the bus to Burgas center to check for Casino first-time bonuses. However wherever we went (we visited around 6 casinos in Bulgaria) the Bonuses for first-time players were abysmally worse than in Baltics or Georgia for that matter. I don't have any worthy pictures of Burgas unfortunately.
Nesebar
Next morning we set our navigation to the first destination: Nesebar. It's an ancient city in peninsula easily walkable in 20-30 minutes without any rush.
Time to bloom, huh?
Days were however hot already. And a walk in the sun suggested we take off our T-shirts. Nice place, but nothing spectacular. Next in line is the highlight of the trip – Soviet Monument Buzludzha.
Alien-like Buzludzha Monument
It's a truly remarkable architectural work. It's here (link to google maps) if you want to visit yourself.
The view from the top is spectacular.
Monument construction started in 1970. Opened in 1981 as a tribute to socialist movement in Bulgaria. However when political changes occurred in 1990's Buzludzha was left to decay.
Soon after it was opened to the public, looters began to steal anything of value. What is left, is seen in the following pictures:
Reads: "Proletarians of all countries, unite!"
Winds up there were pretty strong. Broken roof, water drops, scrap metal in constant attack of wind create a very special audio atmosphere to the place.
Looking down through this window is unexpectedly uncomfortable (ground is really far).
Watch your steps.
At least some things are alive inside.
Mosaics, according to official informational website of Buzludzha, covers a total of 510 square meters and are made out of 35 tons of cobalt and smalt imported from Ukraine. The stones had 42 different colors and were assembled by a team of 60 artists who worked on the project for 18 months.
Mosaics portrayed space travel, warfare, and communist workers driving their pitchforks into a serpent symbolic of foreign capitalism. Nice.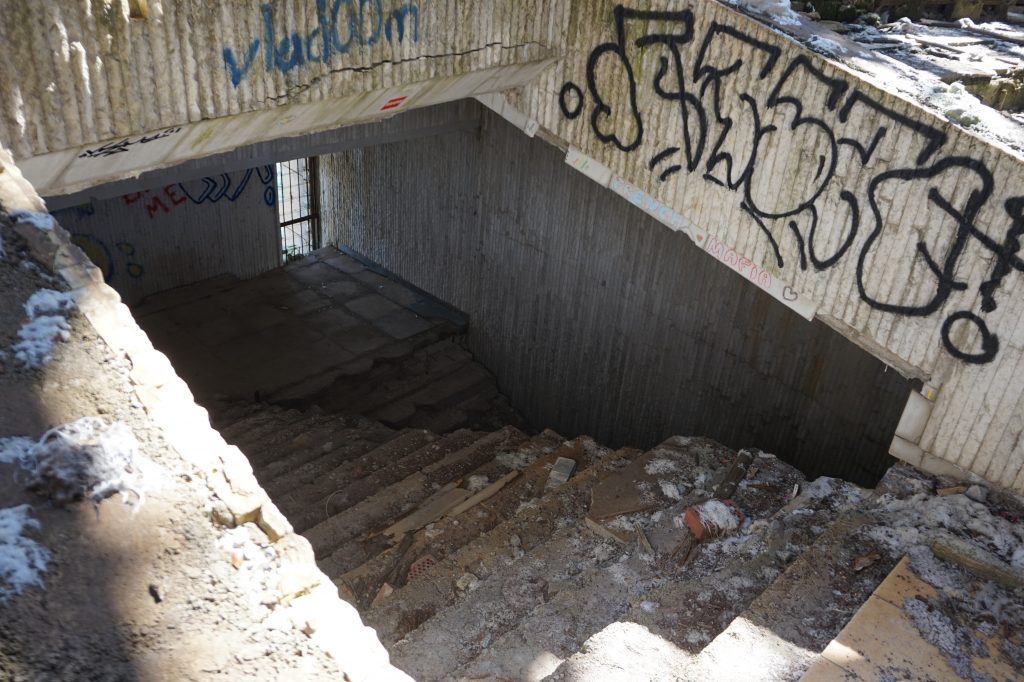 Let's get down.
Oh I had fun with this one:
Getting in required some minimal athletic abilities, however not all places were accessible. We could not get into the "star tower" part, due to welded doors, unfortunately. One of my friends visited Buzludzha few years ago and still managed to get in there as well. Nevertheless we were … "taken away", might suit with everything we could see.
Outside of Buzludzha
Getting outside was a but weird. I don't know why. Buzludzha is a magnificent monument with particular vibe to it. It always puzzles me to think of Socialist doctrines in real life and the hypocrisies of Soviet Union.
Anyway, we met some visitors outside who told us that there's also a sacred place for Bulgarians on the other mountaintop nearby. However driving distance was around 20km and we passed this opportunity.
Little down the road there's also (if i'm not mistaken) stainless steel structures of two arms holding torches near Buzludzha monument itself. All from stainless steel. Massive.
Plovdiv
Next stop was at Plovdiv. We again arrived in the evening: more wine, more casinos, more walking. Morning walk in the center was more clear. Several random pictures:
Uh, this one is going into street art collection.
Plovdiv has an amphitheater from 1st century:
Neat city carpet: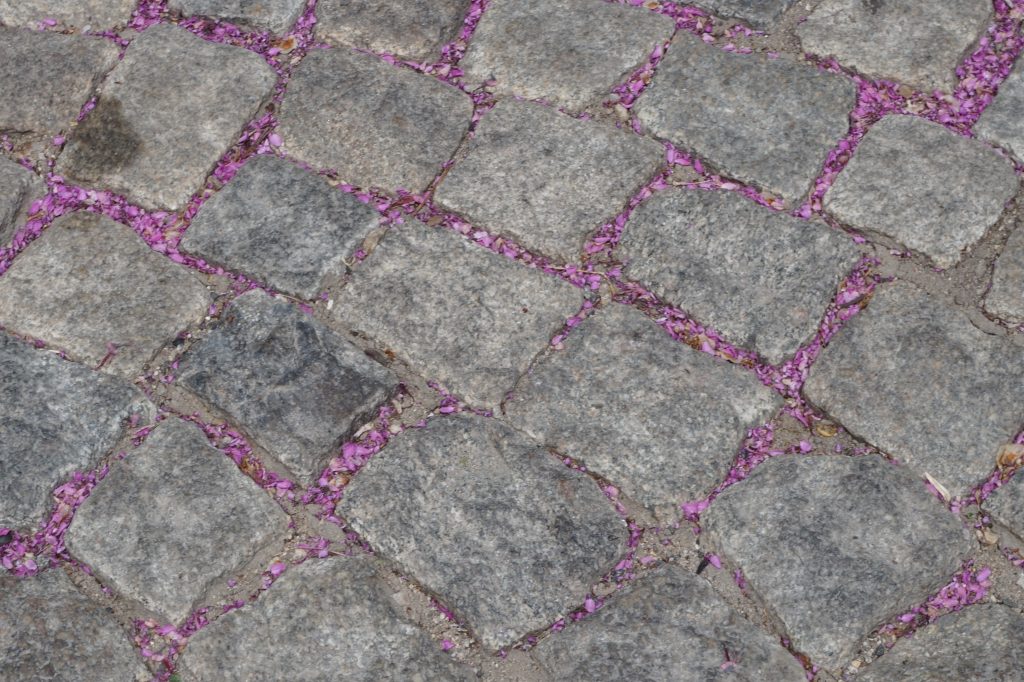 Sofia
Next in line: the Capital of Bulgaria – Sofia. After checking-in the next bed we went for a walk. Or should I say find those bonuses.
Apparently we stayed in student campus area. Another "wasted" evening, however we became friends with bunch of Bulgarian students. We talked about their country, culture and attitude.
Negativity of these young men surprised us. All they dreamed of was emigration to western Europe away from supposedly corrupt country. We tried to deliver the message of young people, especially them, being a potential change, however it seemed they were looking after their own interests only. One thing they agreed on at least: Bulgaria sure has a wonderful nature.
Bulgarian Nature
Non of our company had expected Bulgaria to be so scenic. Bulgaria was gifted with sea shore, mountains, plains, caves, forests and not to forget – beautiful girls.
Cave
Spontaneous find while on the drive to Veliko Tarnovo: quick hike around the area and excursion to underground.
Regrettably I can't locate the place anymore. A hike around this area:
Not for us. Not for today:
Chill Stop at the Lake
This was a moment of peace. Far from sounds of civilization buzz.
And the cyan, crystal clear water…
Had to do the stereotypical photo of the boat for some reason.
Veliko Tarnovo – City of Altitudes
Veliko Tarnovo is another really old city and beautiful city often referred as "City of the Tsars". Back in the day it was one of main cultural centers in Europe and attracted aristocrats.
Unfortunately Assens Monument is not lit up at night.
While at restaurant I noticed this potential shot:
Retro Museum at Varna
Next day we were flying home, so did not have much time and energy to wander at Varna. But we did visit Retro Museum. This takes you 30 years back in time for sure. Home appliances, post stamps, restored cars, cassettes and much more.
After a quick stop at still empty famous Sunny Beach we headed to airport.
Food
I forgot to mention the food. Balkan kitchen is a little different. But I ain't no gourmet to expand here. Occasional food stands on some roads passing through small villages are golden in all possible ways: the taste, the price, the quantity. Food stands are not the only things standing on the road though. Restaurants also suggest an affordable, tasty and sometimes even interesting alternative.
Summing up: Is Bulgaria worth the visit?
Definitely. I don't know if we followed traditional Bulgaria's highlights or made our own, all I know we had an amazing time. If you have never been to Bulgaria – don't think too much. Travelling in Bulgaria is affordable and has plenty to offer.
---
---
You might also like
---