This is a continuation of 2 weeks work training in Southern Germany series.
Two day – Mini Eurotrip in western Europe
When autobahns let you cut kilometers quite rapidly last weekend we decided to make larger circle: From Leonberg, Germany going north, hitting Mannheim, Bonn and Cologne, then staying at Eindhoven, Netherlands and next morning going back south through Maastricht, Luxembourg and Nancy in France. The route on map:
First stop – Mannheim
Never been to a city that strictly structured before. City center at least.
We guessed it was freshly rebuild.  I know nothing about Mannheim's history though.
Jesuit church had a very impressive gate. Had to take it with me.
Mannheim palace is also quite impressive. I have knack for large spaces.
Main shopping street:
Just an hour walk was enough. Nothing particularly special.
Next stop – Bonn
While heading towards the center, still in the car you get the impression you are driving through Soviet region. Harsh architecture, dominant grey color paints a picture of Belarus or Ukraine in the old days.
This caught my eye while crossing the street. Ludwig van Beethoven..
And apparently Bonn is a hometown of this musical genius. Lovely surprise.
I highly recommend Saray restaurant. Relatively cheap, delicious and a lot. After having a dinner, we headed to Koln, or Cologne as it is apparently called in English.
Cologne (Köln)
Last weekend at Baden-Baden, Strasbourg we perfected we fast and effective city visiting. GPS target – city center, then nearest parking (usually underground) and when you exit the parking, you are in between the awesomeness the city offers. Local miracles per kilometers walked or time spent is maximized.
After the quick stop at some impressive modern architecture buildings:
that is exactly what happened with Cologne visit. Exited the parking right at the square of Cologne Cathedral… Rain poured.
Scale of it…
I noticed every major Cathedral has this pattern at main entrance. So much details…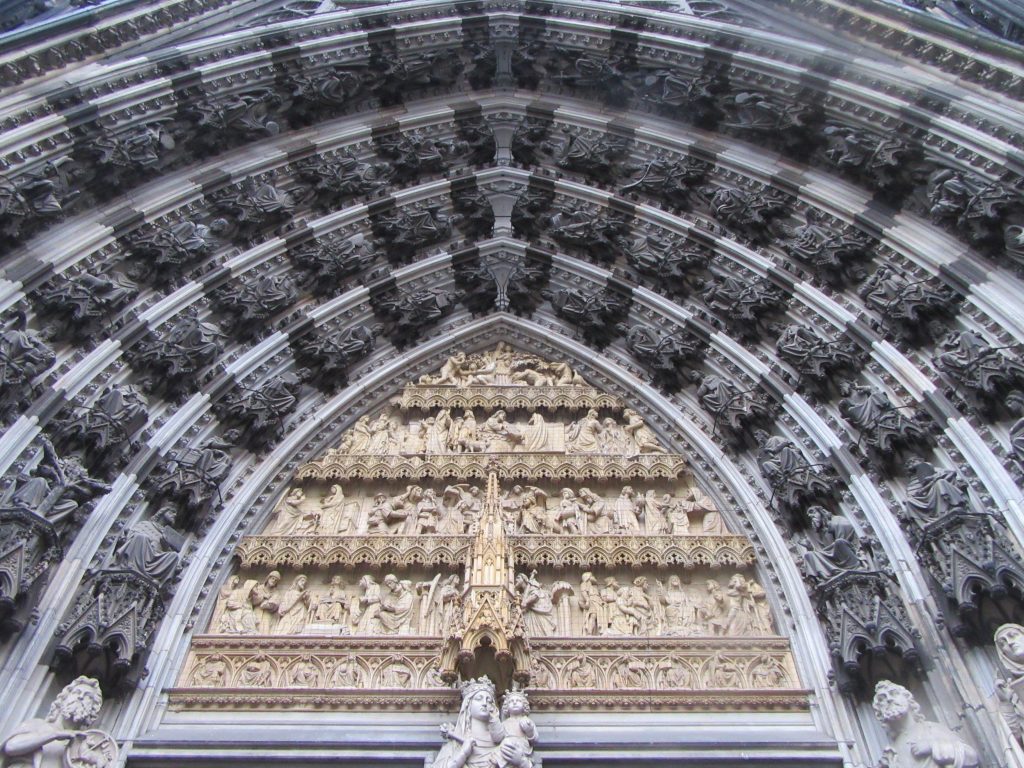 Inside there are plenty of tourists which somewhat disturb the harmony the Cathedral should have on you. Nonetheless:
From the streets of Cologne:
Cologne has s slight taste of Netherlands style to it. I don't know if others see that, but architecture, the sense of the city is somewhat similar to Netherlands.
Evening ended In Eindhoven, which I've been to last summer (a post hopefully to come at some point). We broke several Lithuanian laws and slept over there.
Next morning first stop was Maastricht.
Maastricht
I visited most of major Netherlands cities at this point. And they are pretty similar in their style. More conservative architecture. Transition between the miracles of France/Belgium/Germany and conservative Scandinavian.
Wonderful morning walk around Maastricht:
I don't know what is the deal with the flags..
Short peek into winter in Belgium
I had to stop the car for a while. Get that smile out there. When everywhere else snow was already gone, Belgium highways still saved some to paint some simple magnificence.
Luxembourg
Honestly I expected more. Pretty usual city, carved by height differences. Several shots from Luxembourg:
Next two definitely look like from Mini Europa park in Brussels, Belgium:
Tesla Taxi? Ok.
Monument for victims of WWII if I'm not mistaken:
Last stop on the way back – Nancy, France
Definitely different from Netherlands huh? Damn… So much beauty. Stanislas Place:
This one was empty, silent.
Walking around, the sun set, giving access to night lights of Nancy main Place.
Demanding route, but very worth while. Great weekend. In the last post of this trip I will cover several local towns around Stuttgart and probably several general observations.
---
---
You might also like
---