4 months since last post must be a record. Time flies. I do have a good excuse however. Talk about Generalism…
The Fam Eurotrip
I got this very close cousin. She celebrated her 18th birthday in Spring. This promised trip was part of the present. I love driving, I love mountains, I love western cities. So that's the recipe for 8 days and ~4500 km in yet another Eurotrip:
Day 2: Exploring Budapest
Day 1 is always just getting through Poland. Nothing against Poles, just been to major sights and cities in the past. We wanted as much full day time in Budapest as possible, so drove from home to mid-Slovakia on the first day and on the second, we were already checked in Island hostel at ~11. Mediocre stay, but outstanding terrace with hammocks.
I would rate Budapest as my top 5 favorite city in Europe as far as I've seen. Lots of youth, wonderful city center, has some eastern european dirt (cultural mentality of people, graffiti tags, occasional trash on the streets) which speaks familiarity with home, but has western architecture and wonderful public spaces at the same time.
Budapest Parliament is always an astounding piece of architecture legacy.
When visiting central cathedral, we ran into wedding ceremony of what seemed like a mob family.
And it turns out Hungarians play different track other than wedding march after the ceremony.
After we cooled from +34 Celsius outside and witnessed formation of new family we continued to explore the city.
What looks like a train station is actually a city market hall. Those roofs, seen in Vienna too remind of Willy Wonka.
Clash of modern and classic architecture:
By the way, have no picture, but a lot of people were carrying bags with rainbow colors. We have theorized it was a silent protest against anti-liberal Orban policies (which in part I agree with by the way).
Moving on: nature making its ways:
And now heading higher on the Buda side of Danube river. Had to climb some construction walls to get closer to the top. Seems like she's holding a wheat spica (?)
Pest side opens up quite nicely from here.
However most of panoramic photos we took contain your already a bit tired faces.
Another spot from Buda side mountain – park.
Loved the idea of this sculpture in the park. Main religious figures (Abraham, Buddha, Jesus, Lao Tze around the circle) praying for the common little world of ours.
Heading back down, we again meet Parliament. Magnificent. Notice the natural logo? Did you get the hint?
"VIP" table for dinner had this view. We told your selves anything up to 50€ we would consider cheap considering the view. Got away with something like 35. Full stomachs.
And in the evening, it gets another aura:
Half hour of walking into Pest side, Heroes square and park behind it are really cozy public spaces.
The marked Pavilion – invited us to dance from the far with some electro / techno beats. So we hung out there for an hour, to really squeeze everything from the day in Budapest. Excellent music, beers, vibe. Cheers to Budapest and life.
And good night at Island hostel in the middle of Danube.
Day 3: Bratislava, Vienna
Some cheaper stocking of food and we left Hungary until next time.
Bratislava
Until now I have crossed Slovakia but never really checked it in my mind until now, when we visited capital Bratislava for the first time. Google did not deceive: nothing special. Main square is ok, but far from neighboring cities, huge, renovated castle in the center.
Regional mosaic tiling techniques.
Vienna
Huge city, huge center. Beauty 360 and it spans across the streets and streets until you eventually get used to "everything is beautiful here".
Golden Stairway to heaven gets lit in the evening.
Turns out it's public library here:
Vienna, although a huge city is very spacious, which I particularly like.
Near the modern art museum, there are public open space of what I call meme museum. Really fun way to wander around with eyes.
Moving on, really, just one thing after another.
River side had really chill vibes, people hanging out, drinking, train line oozing by. Calm, warm evening. Also added another thing on the bucket list:
Leaving Vienna was also a sublime experience. Driving with open windows, favorite down-tempo set blasting, extraordinarily beautiful city waving goodbye.
Grossglockner Alpine pass is in mid-Austria, to save time on tomorrow's driving we got closer during the night, sleeping in some fancier hotel of some smelter's town I can't recall, because next night – is Civic Hotel.
Day 4: Austrian Alpine Pass
Rainy day did not promise much. On the way to Grossglockner Alpine pass we visited Salzburg quickly, ate a donner one and headed to the road again. Fog was unbearable. Visibility max 40 meters. Constant cloud. Unfortunate.
However heading down, clouds somewhat cleared and we got the scale of surrounding mountains.
Bunch of driving west from there to target sleeping location at Chur, Switzerland.
Day 5: Swiss Alpine Passes and first Hike
Night in Civic was more comfortable than expected and after some turning around in Chur we headed to main Swiss alpine passes. Oberalp Pass was the first one on the 19'th road from Chur.
70-80km/h, wonderful views, clouds, snowy peaks, valleys. What more can a driver desire?
Honestly I'm not sure where Oberalp pass ends and where Furka begins, but Furka is more challenging with Zigzags going up and down. But rewards in views from higher altitude. Remember +34 in Budapest? +10 Celsius here…
The carrier and hostel. The Civic.
Interesting things growing.
Then there's Gimsel pass to the north. Few lakes around on the top.
My phone seem to have auto-adjusted colors on this one. Sun was very welcome. Plenty of hiking trails from here, but we had planned a hike later down the road.
Hike around Morel
By the recommendation of a local friend, who works and lives in CH for quite some time now we parked the car in Morel and took a cabin to lift our selves up to start training foot for the day.
Gladly the weather was superb. Some white clouds, mostly sunny. Just perfect for a hike. Mountain villages are very cute.
We started walking from Riederalp at +1925m.
Reached another station and cow herd involuntary sounding calmness.
After +300 or +400 meters ascent we got rewarded with glacier view on the other side of the mountain range.
Initial idea was to head to local summit just behind another tele-cabin station, but we were short on time and turned around at the station. In total we made +720/-720 ascend/descend that day. Station was at +2647m. Summit behind it is called Bettmerhorn at +2858m.
I love these mountain benches. Sue me.
on the way back, we got more sun on the glacier. Lens catcher for sure.
We were rushing down, due to miscalculations in "when is the last tele-cabin down?" Decided to short-cut some paths, so did some jumping.
Silence is golden, they say. Great way to calm the mind.
Gladly there were another, bigger cabins still heading down at more sparse time intervals. So we were saved from what could have been a very tiresome evening heading down -1200m (?) in altitude.
My classmate and the local I mentioned lives in Saxon. Valley between the mountains. Great evening catching up after 1.5 years, long-awaited shower, delicious dinner and plan for tomorrow's hike.
Day 6: Hike around Grand Chavalard
Whole day to walk around the mountain. 20 minutes from Saxon to Ovronnaz by car, already increase in altitude. Open (hanging legs) cabin even higher and then footwork starts.
Happens to me every time in mountains. Amazement at first ascend meters, but it always gets better the further you go.
Another herd on the trail. Wind, bells. Only sounds.
From steamy +34 in Budapest to Snow in Swiss Alps. Had to touch it. Interesting flowers around.
After quite a demanding ascend to day's top altitude at +2440m we reached lunch break point at Hut of Fénestral. Wind on the ridge between two valleys is very very strong. Doesn't lift, but it's strong.
One fine dine in warmth after a work has been put on. Every bite tastes different than home. Huge glass windows helps.
Somewhere lost in the clouds, there lies Mont Blanc. Highest peak in Europe.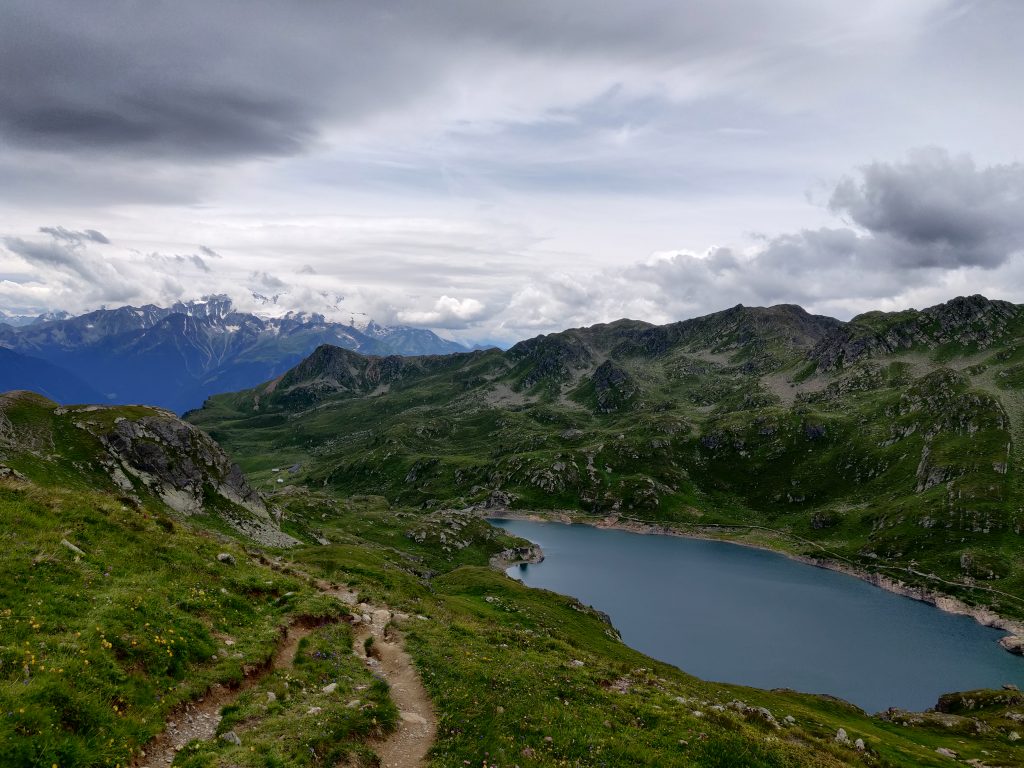 The other side of the mountain is clearly different and rewards with diverse views into the valley.
Funny – similar views you usually see from the plane.
Last cabin heads down at 17. So again we had to rush in the end.
From what I learned later (thrown the booklet already). This day we had maximum ascend of around +750m. Similar to yesterday, but more ups and downs along the way and overall longer day on the foot. Shower, fine dine, talks and good night.
If by any chance my friend A.Z. reads – THANK YOU again, for very welcoming and generous stay.
Day 7: Waterfall, Baden-Baden and Autobahns
On the way out of Switzerland we were recommended to hit another sight with marginal effort – waterfall of Pissevache.
Next on the way was Bazel. Drove around the center for a while to show cousin around and headed to Baden-Baden, Germany. I have written impressions from Baden-Baden before and was glad to return. Seems like a perfect place to die.
Interesting spinning mirror sculpture:
In an off change you are a lady, reading this. Let this be to you.
More of Baden-Baden architecture I photographed in last post.
Off in Autobahn again, we were stuck on the road to Dresden for 3,5 hours and a night ride to reach Poland.
Another night in the car and whole 8th day to get home.
Summary
That's the first decent escape after Covid19 mess started. Especially after 2020, I wanted an escape. Company to the trip turned out incredible. I can officially call my cousin a friend now. We been through some shit together now.
We were both vaxed with European vaccination passports. However Austrian hotel reception and Slovakia – Austria border patrol were the only places in whole eurotrip where someone asked for it.
Travel stats:
Mileage: around 4500km;
Countries: 7;
Major cities: ~7;
Days: 8
Budget excluding speeding ticket yet to be received: ~980 €.
---
---
You might also like
---